MONEY BACK GUARANTEE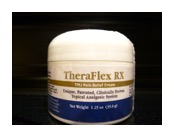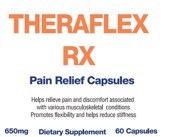 Proven to be effective by Tufts University
THE NATIONAL INSTITUTES OF HEALTH PUBMED.GOV ABSTRACT




This EXTRA STRENGTH topical analgesic with the trademarked name TheraFlex RX® - is the concentrated version of the original Theraflex®! If you like Theraflex®, which is a fantastic product, you are going to love Theraflex RX®!

Originally introduced to professional institutions, TheraFlex RX® was not available to the general public and has been used effectively in physicians offices, by physical and occupational therapists, athletic trainers, dentists, and chiropractors, to provide aid in the relief of all types of pain and inflammation and to help speed the healing process, in their patients.

TheraFlex RX® is a safe, effective, "maximum strength" first line or adjunct treatment to support your wellness needs.

TheraFlex RX® has been successfully used by physicians, pharmacists, orthopedic surgeons, physical therapists, chiropractors, trainers and other healthcare professionals—giving a new weapon in their daily wellness battles. We are now making the "maximum strength" formulation available to the public.

TheraFlex RX® is a unique - physiologically active- synergistic complex of amino acids/minerals/botanicals that can be used as primary or adjunctive treatment. This is the pro strength formulation.

TheraFlex RX® Cream

A topical cream that quickly brings temporary relief of pain, swelling, stiffness and discomfort due to inflammation caused by arthritis, bursitis, tendonitis, bruises, sprains, and other soft tissue and sports injuries. This is the pro strength formulation.

TheraFlex RX® TMJ Relief

Tens of millions of individuals suffer from jaw/neck pain related to diagnosed temporomandibular joint (TMJ) disorders. Many millions more suffer similar jaw/neck pain without an established diagnosis. Theraflex TMJ Relief provides prompt, safe, effective relief directly to the areas of pain in this disorder. This is the pro strength formulation

Theraflex RX® Pain Relief Capsules

Theraflex RX Capsules have been formulated with carefully selected herbal extract to provide maximal relief of stiffness, tenderness and discomfort associated with joint/musculoskeletal conditions including arthritis, bursitis, tendonitis, sports injuries, sprains/steins, low back, TMJ and RSI overuse disorders. Each ingredient was selected for its documented analgesic, anti-inflammatory and heating effects. An ideal adjunctive and complimentary addition to any topical creams being used (including our Theraflex RX Cream, and Theraflex RX TMJ)


A Study of Theraflex® by TUFTS UNIVERSITY SCHOOL OF DENTAL MEDICINE
A randomized double-blind clinical study conducted by Tufts University School of Dental Medicine (Boston, MA) on patients with masseter muscle and temporomandibular joint (TMJ) pain validated the effectiveness of the Theraflex approach. The study published in Cranio: The Journal of Craniomandibular Practice, Vol.22, no.2, April 2004 showed that Theraflex TMJ safely and effectively reduced pain in the masseter muscles and TMJ joint in difficult to treat TMJ patients. After 2 (two) weeks, participants using Theraflex TMJ experienced a 68% (sixty-eight percent) reduction in masseter muscle pain, and a 50% (fifty percent) reduction in temporomandibular joint pain. Importantly, five days after the last application of Theraflex, significant pain relief persisted. This pain relief was achieved without side effects as are so frequently encountered with oral medications such as Advil, Vioxx, Celebrex, etc

TheraFlex RX® is a unique patented - physiologically active- synergistic complex of amino acids/minerals/botanicals that can be used as primary or adjunctive pain treatment.

MAXIMUM STRENGTH Relief--TheraFlex RX®
Not just another cream! It is a Natural Solution to Pain and Stiffness--Bringing Significant, Safe Relief to Pain Sufferers. These statements have not been evaluated by the FDA. This product is not intended to diagnose, treat, cure or prevent any disease.

Forget the bulky patches or trying to remember when to take a variety of oral medications (and wait for the side effects), when you can get fast, safe and effective relief with TheraFlex RX® --any time and any place.


20 YEARS IN DEVELOPMENT


Do not confuse our "maximum strength" "topical" relief with other products. THIS IS THE ONLY TOPICAL ANALGESIC TREATMENT TESTED AT TUFTS UNIVERSITY PROVEN TO WORK!

This is the only EXTRA STRENGTH topical analgesic with the trademarked name TheraFlex RX® on the worldwide web! Anything else is a fake!


Millions of Americans suffer from different types of acute and chronic debilitating pain.
Over 80 million Americans suffer from chronic pain. This is no small problem, as the costs of chronic pain exceeds 90 billion dollars annually and carries severe mental, physical, and emotional debilitating effects.

Extensive anecdotal and clinical experience, in multiple areas of pain management, has shown TheraFlex RX® to be a safe, effective, first line or adjunct treatment to aid in the control of pain and healing. TheraFlex RX® has been used for pain control, successfully, by physicians, pharmacists, orthopedic surgeons, physical therapists, chiropractors, trainers and other healthcare professionals—giving pain sufferers a new weapon in their daily pain management battles.

TheraFlex RX® contains a "unique, proprietary, organically complexed formulation that effectively acts as an inducer and activator of the key anti-inflammatory enzyme, superoxide dismutase, and key tissue healing enzyme, lysyl oxidase." TheraFlex RX® contains a counterirritant of the salicylate family.